Presentation
Gateway to the Pyrénées National Park, the Pont d'Espagne is a small paradise on the mountain side.
The climb from Pierrefitte-Nestalas then the sublime loop in the village of Saint-Savin, is sporty and will send you along a road with a stunning view of majestic waterfalls. Pont d'Espagne 1460 m - 1st category (from Cauterets)
average slope: 8% - max slope: 9%.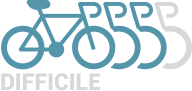 02:46:00

49.26 Km

1033 m

1033 m

424 m

1460 m