Every day a new challenge
One pass per day is our challenge! Every morning, a departure is given to set off together on the legendary routes of the Pyrenees which have made their fame thanks to the regular passage of the Tour de France.
Vehicle assistance offered for everyone*
Leaving with an assistance vehicle is the guarantee of free mind and the light pockets. You will be able to leave your personal belongings ** in the assistance vehicle and you can collect them at any time.
In case of summary repair to be carried out on your bicycle, a technician is present throughout the course to lend you a hand. Going on an adventure becomes more enjoyable when you don't have to deal with logistics!
The plus
In the event of a technical or physical failure, Tourmalet Experience provides you with:
a spare road bike
an electric bike
so you can reach the top without worries!
It is our personal challenge, allowing the greatest number of sportsmen to reach their goal serenely.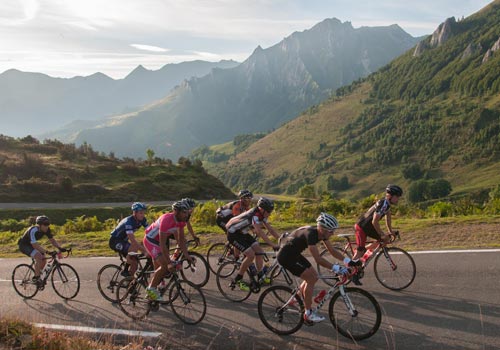 Rent your bike on site
If you can not take your bike with you, do not panic, you can rent one from our partner who is also our starting point for each outing.
Avenue des Pyrénées
65400 Argelès-Gazost
www.pyrenees-bike.com
Tél : 05 62 92 29 31
E-mail : info[@]pyrenees-bike.com
Who is this experience for?
Fun above all, this experience is suitable for all those who want to accomplish beautiful things!
We are keen to share with you an experience surrounded by enthusiasts with whom you will live unique moments. A real moment of meeting between cyclists of all levels, each one learns from the experiences of the other to become better and improve in sport.
For the less experienced persons who still wish to participate, we advise them to rent an electric bike so this moment will remain a beautiful memory.
When to participate?
From 06 July to 28 August, take advantage of our exclusive offer to discover the Pyrenees differently.
The outings take place 5 days a week, according to the program established below ***:
Monday, direction Luz Ardiden
Tuesday, Hautacam pass
Wednesday, sequence of the Soulor and Aubisque passes
Thursday, ascent to Cauterets-Pont d'Espagne
Friday departure for the famous Tourmalet pass
Do not hesitate to register in advance (at least the day before until 5 p.m.).
Where is the departure?
Departures are from the Etape des Pyrénées, a cycle store in Argelès-Gazost, and a real hub for cycling due to its ideal geographic position. Indeed, Argelès-Gazost is an unmissable passage, joining the most beautiful passes of the Pyrenees to its valleys and plains where it is good to bike.
Registration conditions
To be eligible for the "1 day, 1 pass" offer, you must be staying with one our partner's accomodation. Indeed, this program is offered by Tourmalet Experience in collaboration with the hosts below:
List to come (in the meantime you can contact us directly if you are interested in Tourmalet Experience offers)
* Assistance is offered for cyclists staying with one of our partners (see list)
** Tourmalet Experience is not responsible for the loss or theft of your belongings. We advise you not to take valuables with you.
*** Tourmalet Experience reserves the right to modify the departure time, the planned route, or cancel an outing in the event of unfavorable weather conditions.
- Col TE#1 -


Hautacam

02:14:00

36.40 Km

1190 m

1190 m
424 m

1617 m
- Col TE#2 -


Soulor - Aubisque

01:13:00

60.54 Km

1633 m

354 m
424 m

1709 m
- Col TE#3 -


Luz-Ardiden

02:56:00

64.60 Km

1288 m

1288 m
424 m

1715 m
- Col TE#4 -


Tourmalet

03:47:00

75.32 Km

1691 m

141 m
424 m

2115 m
- Col TE#5 -


Gavarnie Col des Tentes

01:09:00

96.28 Km

2074 m

294 m
424 m

2208 m
- Col TE#6 -


Cauterets - Pont d'Espagne

02:46:00

49.26 Km

1033 m

1033 m
424 m

1460 m